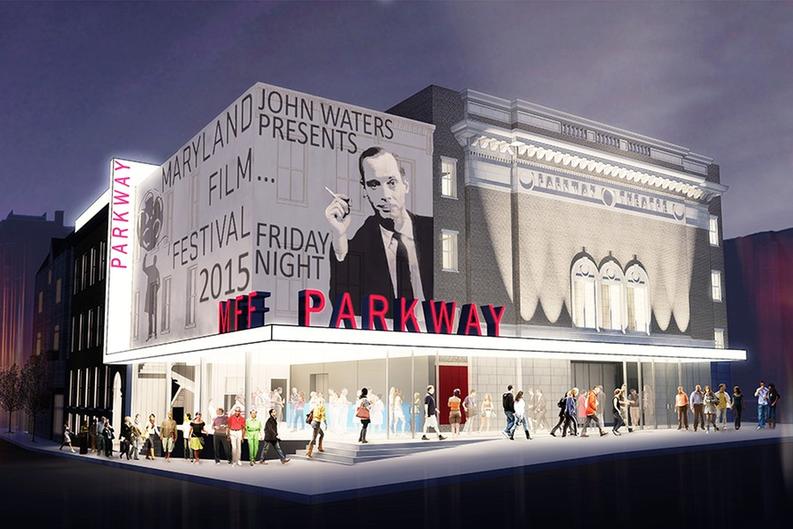 The renovation of The Parkway theatre would be a game-changer for the development of Station North.
The Marc Steiner Show
on WEAA 88.9 FM asked this question of the relatively new neighborhood of Station North Arts & Entertainment District, along with discussing the connected topics of revitalization, gentrification, and the state of arts in Baltimore. One of the city's most changing communities, Station North has numerous projects in the works in order to revitalize the neighborhood like the restoration of the
Parkway
and
Centre Theaters
on North Avenue.
Ben Stone, the executive director of
Station North Arts and Entertainment Inc.
, spoke about the mission of the neighborhood. He stressed the importance of inclusion of all residents, no matter how long they have resided in the area. A common concern that was addressed was the issue of displacement over the long term due to the gentrification of the neighborhood. Stone along with other members of the panel were all in agreement that they would like to avoid hyper-gentrification and displacing residents.
In my opinion, I believe that Station North has been doing a good job so far through its development process. Namely, I think that Station North utilizes transparency and encourages the inclusion of others in the community. From my experience working on Section.1 Park, inclusion and nondiscrimination are common themes throughout the project, so that nobody is left out of the experience. Overall, I believe that the projects going on at Station North will greatly help the city.
Ben Stone, Executive Director of Station North Arts and Entertainment Inc.
Three main questions that I would extend to Ben Stone would be:
How can we sustain the development brought by Station North, and extend it into neighboring areas? In other words, how can we take advantage of this development and bring it into decayed areas surrounding Station North?
Is there a way to bridge the different "layers" found in Station North? Can we unite students, working-class individuals and artists through community functions and urban planning?
Will families and others outside the city have a place in the long term plans for Station North? I think there needs to be more contribution from other institutions that are not immediately located around Station North (i.e. MICA/UB/etc.)